Riccardo Zanotto sono io, ho un'idea tutta mia di cosa debba raccontare un vino quando lo si degusta, sia che si tratti di un semplice vino da tavola fermo che uno Prosecco Doc spumante o un frizzante"col fondo" a rifermentazione in bottiglia.
Vorrei che chi beve una mia bottiglia possa ritrovarci le storie di una volta, quel profumo e quella personalità che ha fatto innamorare me dei luoghi e delle tradizioni della terra dove sono nato e dei "piccoli pezzi d'Italia" che ho attraversato, amato, vissuto.
Per ottenere la mia idea di vino ho svolto una lunga una ricerca per scoprire la giusta combinazione di uva, terreno, tecnica, tradizione, tempi… ed ho capito che occorre essere più
You wish to anticipate success. Science projects are finished by students worldwide. The issue is really easy. LED blinking project is quite an easy and only ideal for school kids. You get started making huge progress since you become consistent. You can observe how a question like that will evoke an intricate reply," Justice stated. Factual questions or pure data questions is among the 3 different types. All things considered, for me, it's the BEST pre I've writing paper used. It is extremely easy to prepare and fun for those children to predict and watch. Our science activities are ideal for the young scientist. Science has an issue with causality. Doing science at home is not only for fun, it's also to cultivate child's interest in science and permit them grow scientific thinking abilities.
sarti che agricoltori, più selezionatori che produttori.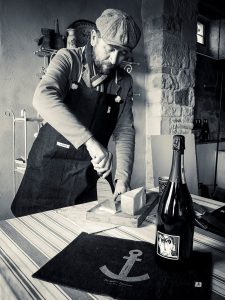 E questo è ciò che sono diventato nel corso degli anni: un sarto che seleziona qualità, gusto e tradizione.
Ogni anno creo e seleziono i miei vini col fondo (bianco e rosso), i miei fermi e il mio Prosecco spumante Brut DOCG Conegliano Valdobbiadene ma non possiedo vigneti. È una scelta consapevole, che grazie alla collaborazione con un fidato produttore ed i consigli di un esperto enologo, mi permette di mettere nelle mie bottiglie esattamente la mia idea di vino.
Ma quello che più vorrei trasmettere con i miei vini, al di la di ogni nota tecnica e di degustazione è il tornare a vivere il vino con semplicità e convivialità. Torniamo indietro, riscopriamo il bere come facevamo una volta in Osteria, trascorrendo del tempo insieme ai nostri amici.
Spedizione gratuita
Offriamo il servizio di spedizione per tutti gli ordini superiori a 80 euro e per tutte le nostre confezioni
In tutto il mondo
Le spedizioni vengono effettuate nel solo territorio italiano. Per le spedizioni all'estero contattaci